B&Q is the UK's leading home improvement and garden living retailer, offering 40,000 products across more than 300 stores and a total of 340,000 products on diy.com. B&Q is part of Kingfisher plc, the international home improvement company with 1,100 stores in 10 countries across Europe.
Wincanton and B&Q have worked collaboratively and grown together since 2015. This wide-reaching partnership sees Wincanton manage four national distribution centres and nine omnichannel distribution centres (NDC) on behalf of B&Q. Wincanton is also responsible for two-person home delivery for Kitchen, Bedroom and Bathroom products direct to B&Q customers across Great Britain.
---
The challenge
During the challenging pandemic period, B&Q continued to trade as an essential retailer and Wincanton was able to support this with key worker status. Sales growth remained strong with increased demand for home improvement as consumers placed a greater focus on improving comfort and wellness at home, resulting in a larger share of consumer income being allocated to home and garden spend.
To keep pace with increased demand in store and benefit from longer-term market trends that are supportive for the DIY industry, additional automation capacity to handle single pick items has been introduced at B&Q's largest semi-automated distribution centre, the 950,000 sq ft NDC in Worksop, Nottinghamshire. The NDC is managed by Wincanton on behalf of B&Q and Wincanton is responsible for over 600 colleagues on-site.
Increased performance
Wincanton worked collaboratively with B&Q, and automation specialist Logistex on a major project to maximise the capacity at Worksop and improve efficiency using automation. The solution would increase operational performance and productivity, providing a platform for B&Q to grow.
Our deep understanding of managing automated warehousing on a large scale played a major role in the delivery of an ergonomic and efficient platform for growth at B&Q's Worksop NDC.
In line with B&Qs growth plans, productivity in the small picking area had to improve to accommodate a 33% increase the number of SKU's handled, as well as adapt its processes to changes in the volume of pre-toted products arriving at the DC. As a result, the previous labour-intensive design has been replaced with more efficient pick for small, picked products and a more ergonomic decanting processing for small products.
Key to the design of the semi-automated solution was four goods-to-person pick stations which allow pickers to fill totes 2.5 times faster and increase throughput capacity. The pick stations are supported by a 14 person semi-automated ergonomic decant platform decanting palletised goods into a 140-shuttle automated high bay capable of storing 54,000 totes. A robotics solution supports the goods-out process, with a robot with pallet and dolly capability stacking, banding, and labelling outbound pallets of totes to stores.
Maintaining business continuity
Wincanton's change management process, and our capability to implement automation projects in a live environment, was key to ensuring this major undertaking had no impact on B&Q's day-to-day operations.
The implementation of transformative and large-scale automation and supporting software, including a new WMS, had to be conducted in a live environment. During this period, which coincided with Covid lockdowns, B&Q was seeing strong demand from its customers resulting in 30% volume increases at the Worksop NDC and business continuity had to be maintained.
Driven by Wincanton project management a steering group incorporating all major stakeholders, including logistics, finance, health and safety, IT and engineering implementation and the customer met weekly to ensure a smooth transition from manual to automated processes while maintaining store fulfilment levels during this period of peak volumes.
Wincanton led a phased implementation onsite, ensuring compliance and the highest levels of health and safety for our colleagues and all contractors at every stage. The Wincanton team at the Worksop NDC has been recognised in their achievements with ten consecutive RoSPA Gold Awards.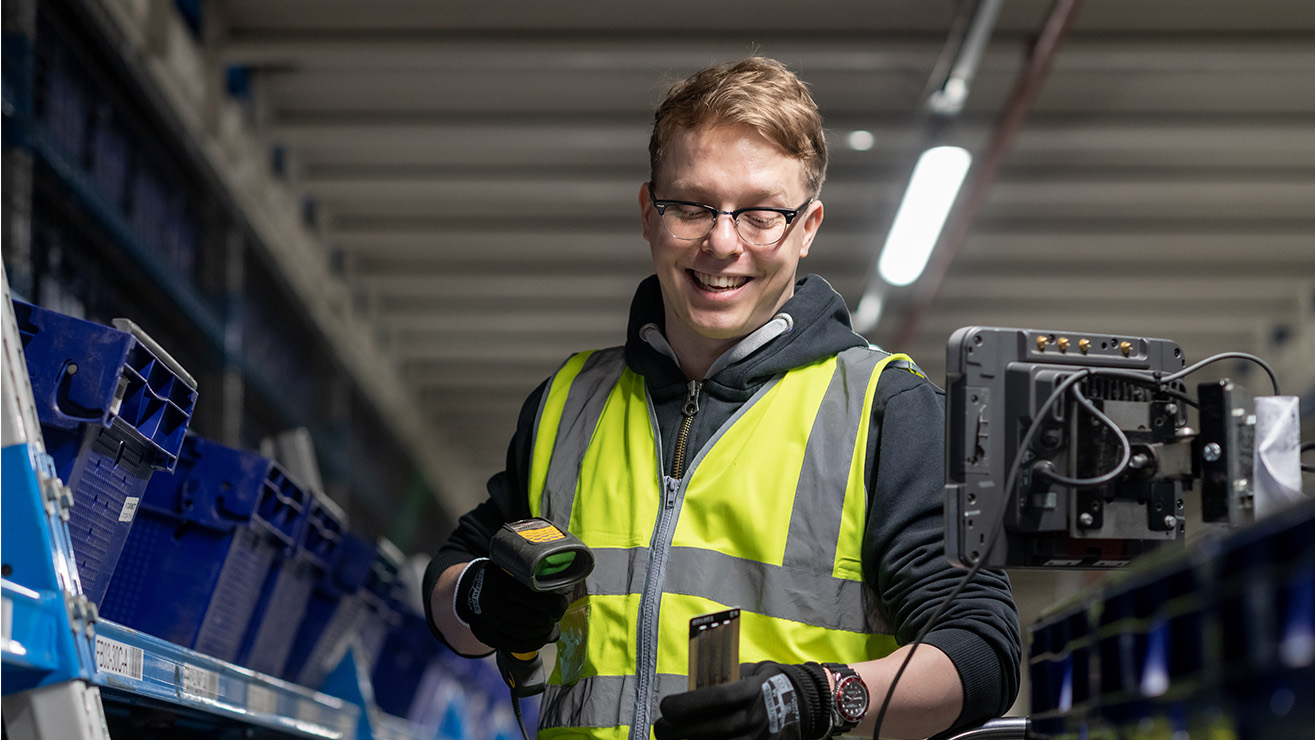 Maximised productivity
The transformation of the process for inbound goods at B&Q's Worksop NDC has seen the Wincanton-managed site increase throughput capacity by 24% from 1.7 million cases to 2.1 million cases per week.
Introducing further automation into the small pick area processes has reduced the number of materials handling equipment moves for pallets supporting the small item pick area and allowing the redeployment of 2,000 labour hours a week.
Productivity, measured as the number of cases processed per hour has increased by 28.2%. Communication was critical to achieving this level of improvement. Wincanton colleagues on-site were kept fully up to date as to how their roles would transform throughout the implementation of the automation solution, ensuring total buy-in before the solution went live.
What the customer says:
"The Wincanton site and project team were key to the successful delivery of the project. The team were experts with a project framework and methodology meant we could get decisions made really quickly. I genuinely felt that we were working with partners who cared about our business and understood what we were trying to do."