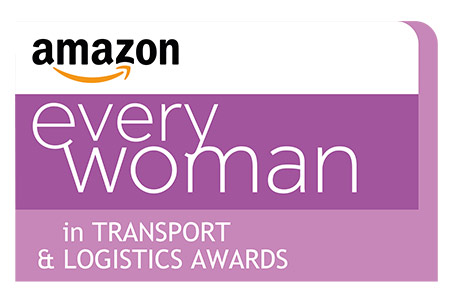 Two Wincanton colleagues have been named as winners at the 2020 Amazon Everywoman in Transport & Logistics Awards.
---
The winners by category are:
The Supply Chain Award – 'Leader' category: Tracey Clifford, Account Director of Digital and eFulfilment, Wincanton
The Freight Award – 'Above and Beyond' category: Hollie Ridley, Transport Team Leader, Wincanton
Read more about the awards and the winners.
Tracey is a key part of Wincanton's Digital & eFulfilment team. She manages the business' home delivery network, which serves many major high street brands. We caught up with Tracey earlier this year to talk about being a female leader in logistics and what inspired her to take on a role in this industry.
Hollie is a Transport Team Leader in the Wincanton for Wilko team. Her role involves organising routing and scheduling for a dedicated group of drivers and technicians. Before her current role, Hollie was an HGV driver on the Wilko contract, which she described as "not just a man's job" when we spoke to her in February 2020.
Sally Austin, Chief People Officer at Wincanton, said:
"We're so proud of all of our Wincanton colleagues who were rightly recognised as worthy winners and finalists. Their tremendous efforts and skills make them trailblazers in our industry and demonstrate the importance of diversity and inclusion in logistics.

"People are at the centre of Wincanton's culture. We always aim to develop a culture where everyone is valued and given a platform to be at their best."
Tracey Clifford said:
"Thank you to Everywoman for the award and to Wincanton for supporting me. I'd also like to thank my daughter who was the inspiration for me to 'grow up' and get a proper job as an accountant many, many years ago.

"Finally, it's only fair that I thank my team who help me deliver such fantastic service and results, and my peers in Wincanton who have not only put up with me for the past 15 years but also supported me on my amazing journey."
Hollie Ridley said:
"As big as the transport industry is, it is made up of a small, close-knit community. There is always help wherever you look for it, and even in the current times of 2020, we are keeping the country and world stocked with the supplies we need to survive."
Karen Govier, Diversity & Inclusion Manager at Wincanton, said:
"Diversity and Inclusion is a key pillar of our People Strategy, so it is absolutely fantastic to participate in and see so many of our colleagues recognised by the Everywoman Transport & Logistics Awards.

"Congratulations to all this year's nominees and finalists who were part of a really strong contingent of male and female colleagues all worthy of recognition. At Wincanton we are striving to provide even more great opportunities for women in all areas of our Operations, so I hope to see many more of our colleagues join this year's fantastic line-up at future award ceremonies."
As well as the winners, Kayleigh Sutcliffe (Compliance Manager) was a finalist in the 'Above and Beyond' category of The Infrastructure Award. Callum Bartlett (Apprentice) was also a finalist for Apprentice of the Year Award.
The winners were announced during a virtual ceremony on 6 October 2020.
The Everywoman Awards shine a light on the progression and successes of all women and young people in the logistics industry, and the work they do to blaze a trail for others looking to join the sector.
* The Apprentice of the Year is awarded to any male or female apprentice excelling in transport and logistics