While we spend time relaxing and enjoying the festivities, it's worth remembering that the food in fridges, presents under trees and even the fuel in vehicles has been on long journeys.
---
It's been across borders, along roads, in and out of warehouses, and through the hands of delivery technicians. Logistics, and the people involved in all of these processes, has a big impact on Christmas.
As the largest British third-party logistics (3PL) company, Wincanton is an active part of the supply chain all year round. Detailed planning, collaborative working and our experience across all areas of logistics mean we are well placed to scale up around peak periods; such as Christmas.
In the week running up to 2019's big day*, our dedicated drivers, warehouse operatives and planners behind the scenes: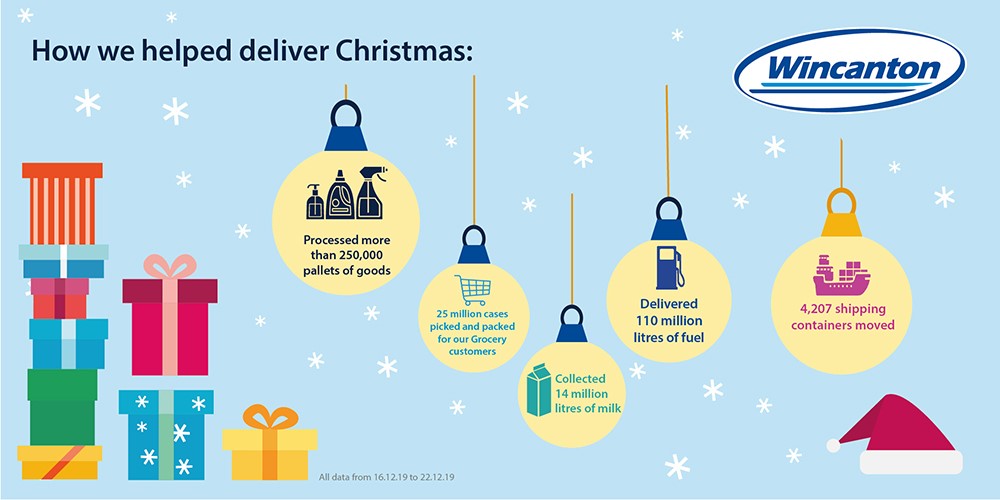 Picked and despatched more than 25 million cases of food and drink
Processed over 250,000 pallets of fast-moving consumer goods (FMCG) products
Delivered 110 million litres of fuel to forecourts across the country
Collected 14 million litres of milk from UK dairies
Completed 4,207 shipping container journeys
James Wroath, CEO of Wincanton, said:
"These amazing numbers display the commitment and expertise of Wincanton's drivers, warehouse teams and everyone across the business. Their huge efforts helped consumers throughout the UK to enjoy Christmas and the New Year with friends, family and loved ones.

"Wincanton's operations extend across many areas of the supply chain. From our tanker drivers out on rural roads supporting dairies, to our experts in warehouses across the UK picking, packing and despatching goods, I'm proud of everyone's achievements."
Wincanton services a variety of sectors around the country. This includes markets such as Grocery and Home & DIY, through to Construction and Defence.
The wealth of cross-sector knowledge it gains from this diversity helps it to deliver for its customers around peak periods. The sheer scale of the network means Wincanton can draw upon its portfolio of drivers and assets to support customers experiencing planned peak activity or provide extra capacity to cope with unforeseen upticks in activity like summer heatwaves or challenging winters.
* All data from 16.12.2019 – 22.12.2019